Grape Brandy
Gotas del Marqués (Drops from the Marquis)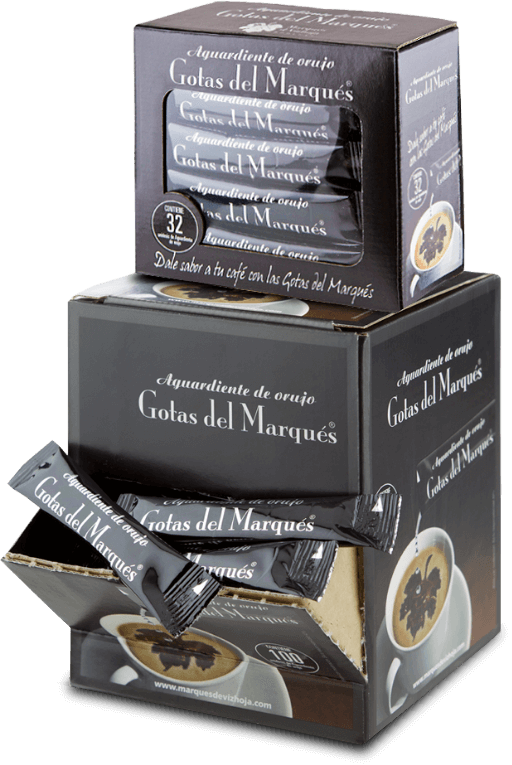 * Photo cases 32 and 100 single-dose liquor
Type of brandy
Grape Brandy
Description
Grape liqueur in single doses.
Allergens
Does not contain allergens
Tasting Notes
Characteristics
It is the basis of the popular "Queimada", the origin of which can be traced to the 11th and 12th centuries, coinciding with the construction of the Cathedral of Santiago de Compostela. In the 17th century, its description appeared at the stills, for the distillation of grape liqueurs. Still, its origins would have to have occurred prior. The alchemists of the convents and religious orders passed down their knowledge in that regard. The Camino de Santiago was also a vehicle for passing down their secrets. The alcohol achieved by them was used for religious and cosmetic purposes.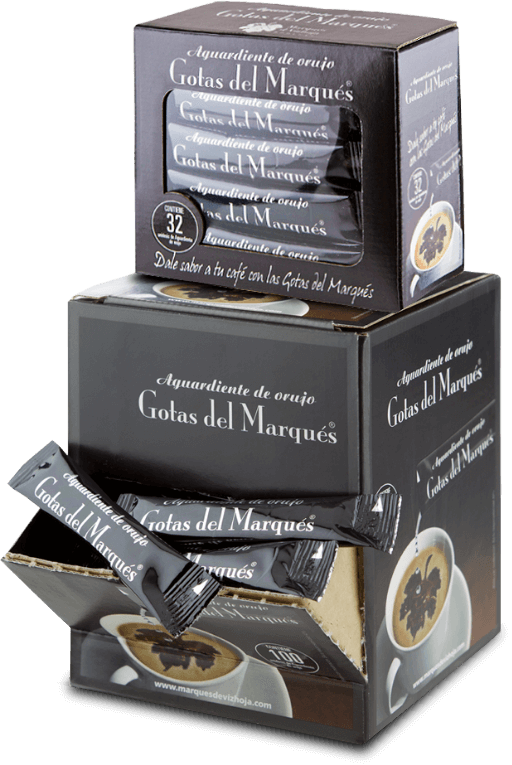 Grape brandy is especially popular in the mountainside of Leon, Cantabria and, of course, Galicia. But it is also a drink with an international tradition. It is called "Bagaçeira" in Portuguese, "Mare" in French and English-speaking countries, and "Grappa" in Italy.
Tasting
The grape brandy Gotas del Marqués stands out for its crystalline, transparent appearance. Its scent is a reflection of the product's purity. Its taste in the mouth is strong, powerful and prolonged. At 7ml, it has the ideal quantity for mixing with coffee.