Añejo Dominican Rum
Gotas del Marqués (Drops from the Marquis)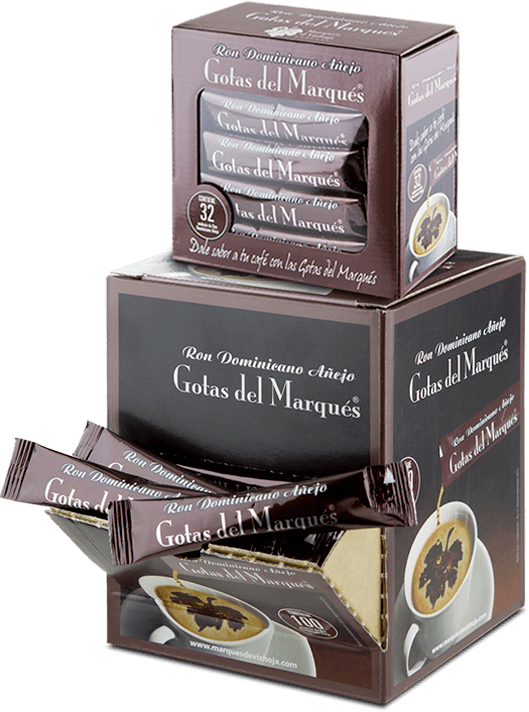 * Photo cases 32 and 100 single-dose liquor
Type of brandy
Añejo Dominican Rum
Description
Añejo Dominican Rum in single doses
Allergens
Does not contain allergens
Tasting Notes
Characteristics
The Añejo Dominican Rum from Gotas del Marqués is the first rum sold in singular containers. The container is designed to open easily and has an anti-drip system. It is a Dominican rum produced in the Dominican Republic, where the best in the world is prepared. It is called Añejo (old) because it comes from brandies which have been preserved in oak and cherry containers for at least a year. This drink traces its origins to Cuba, where it was a Spanish drink. The soldiers would combine it with coffee in order to find "corajillo" (courage), and that is how what is now known as "carajillo" came about. This combination has the name "rebentat" in Majorca (meaning "burst, exploded, or blown up" in Catalan). The first distillation of rum was carried out on sugar cane plantations in the Caribbean. The drink is obtained from sugar cane, through means of a process of fermentation, distillation and subsequent ageing, which tends to occur in cherry or oak casks.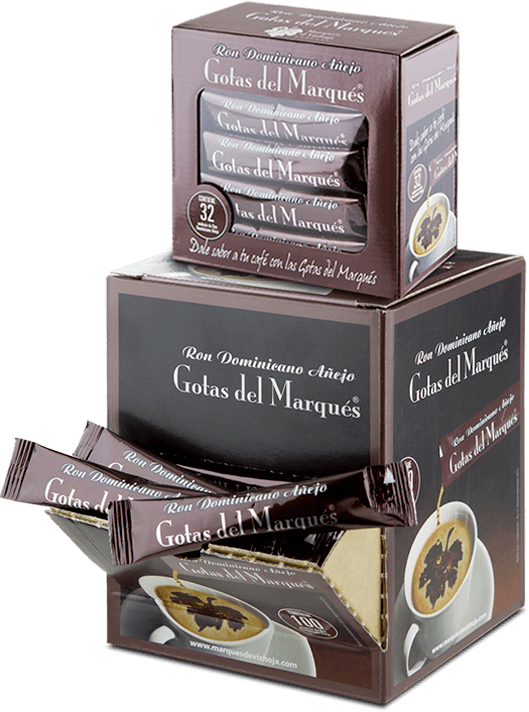 Still, it is believed that the origin of this type of drinks, fermented from sugar cane, was Ancient Greece. Nonetheless, what is certain is that rum is mentioned for the first time in documents found in Barbados.
Tasting
Añejo Dominican Rum from Gotas del Marqués has a topaz colour. Its scent takes one to the tropical vanilla plantations, and its flavour calls to mind the sweetness of caramel. At 7ml, our drops of rum have the ideal quality for mixing with coffee and achieving an exquisite and aromatic form of "carajillo".