Scotch Whisky
Gotas del Marqués (Drops from the Marquis)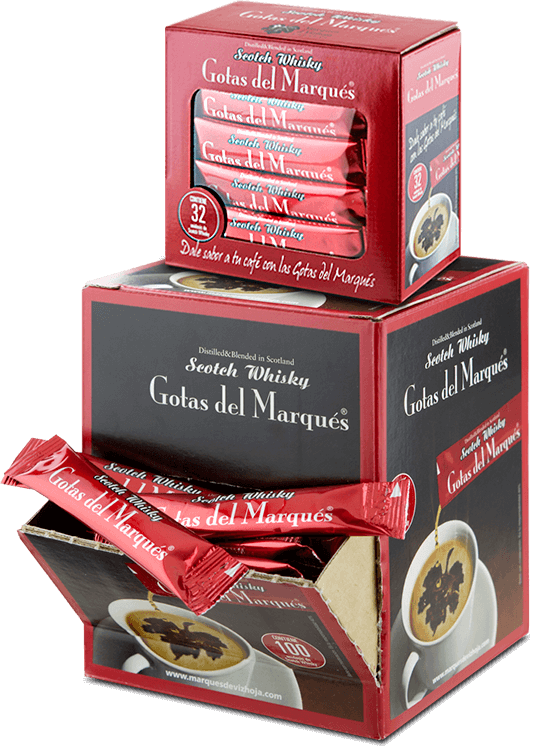 * Photo cases 32 and 100 single-dose liquor
Type of brandy
Scotch Whisky
Description
Scotch Whisky in single doses
Allergens
Does not contain allergens
Tasting Notes
Characteristics
The Scotch Whisky by Gotas del Marqués is the first whisky sold in singular containers. Scottish in origin, it is distilled and aged exclusively in the country where the most renowned whiskies in the world are produced. This is a product aged in oak casks in Scotland over a minimum of 3 years. It is a type of Scotch Whisky, the first Distilled and Blended type. This alcoholic beverage is achieved from the distillation of fermented malt of cereals, such as barley, wheat, and maize. It is subsequently aged in wooden barrels, which are traditionally white oak. Scotch Whisky has an acohol content between 40 and 62% vol. The first mention in writing of this drink was in 1405 in Ireland. Nonetheless, it is believed that its origin dates back several centuries earlier.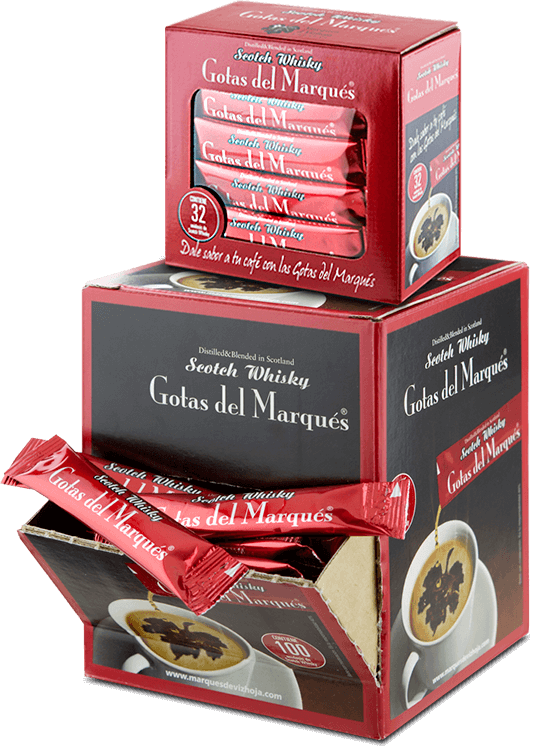 During the 15th century in Scotland, it was considered the only antidote to pain. That is why such large amounts were consumed at funerals. There are over 7 types of whisky, according to the ingredients and types of production. In Gaelic, whisky gets its name from "ulsge beata", which means "water of life".
Tasting
The Scotch Whisky by Gotas del Marqués has a golden, amber colour similar to caramel. Its scent is sweet and intense, and its flavour is powerful, tantalising, and has a big finish, dry and lightly bitter.